Installing Pirform
Download the Installer
To install Pirform on your computer, first download the Pirform installer file. You can download the lastest installer from here:
If you are looking for a Pirform pre-release version, see the section later in this page.
Unblock and Run the Installer
Before running the installer, you need to "unblock" it tell Windows that you trust it and want to install it. To do that, right-click on the installer file and select Properties from the menu that appears. This will bring up a dialog like one of those shown below.
Unblocking on Windows 10
Tick the box marked Unblock and then click OK to apply the changes. (If you do not see Unblock then the file is not blocked.)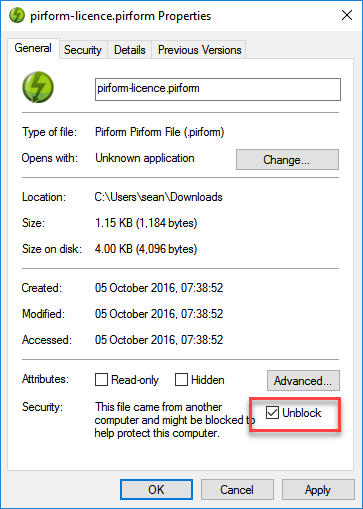 Unblocking on Windows 7
Click the button marked Unblock and then click OK to apply the changes. (If you do not see Unblock then the file is no blocked.)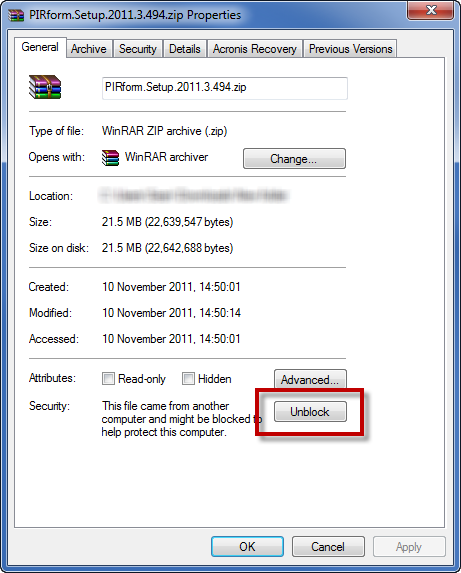 Running the Installer
Next, double-click on the installer and follow the on-screen instructions.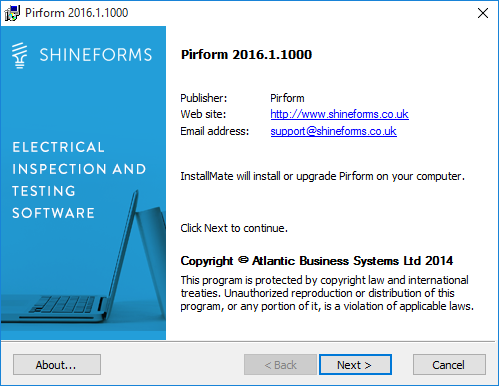 Installing the Prerequisites
Pirform requires the Microsoft .NET Framework 4.6 to be installed on the computer. If this is not present on your computer, then this will need to be installed before Pirform. The Pirform installer will download and install that for you, or you can install it yourself by following the instructions here.
When the Pirform installer is downloading the Microsoft .NET Framework 4.6 installer from Microsoft onto your computer, it may take some time depending on the speed of your internet connection. During the download you will see a screen similar to this: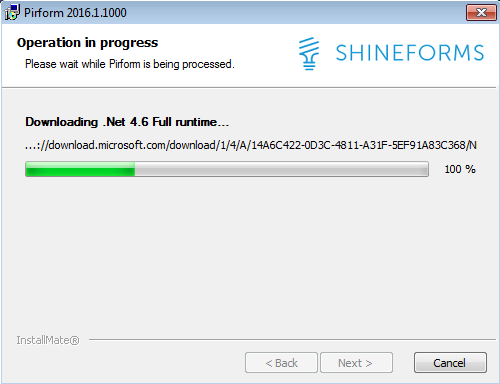 When the Pirform installer starts to install the Microsoft .NET Framework 4.6, it will ask you for permission to make changes to the computer.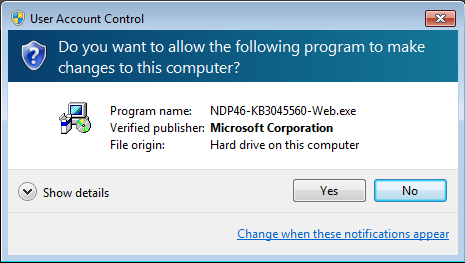 Click Yes to proceed. If you are not able to allow the installer to continue, contact your computer's administrator.
Once completed, you can start Pirform directly from the installer.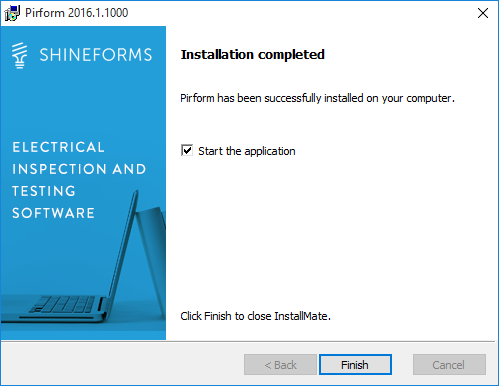 Browser Issues
You may see a message from your browser saying something like the program is not commonly downloaded. If so, you will need to tell the browser that to allow you to continue so that you can run the Pirform installer.
For example, here's the error message seen in Google Chrome:

Here's a similar message from Microsoft Edge in Windows 10:

Installing Without Unblocking
If you didn't unblock the Pirform installer after downloading, you might see a screen saying something like "Windows protected your PC".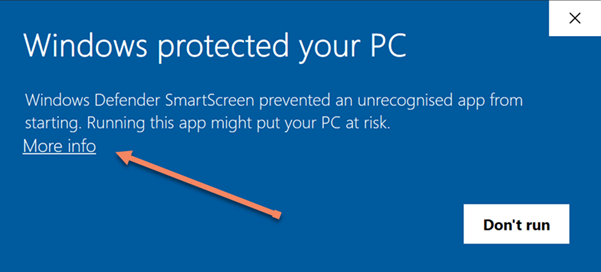 If so, clicking on the link for "more info" will reveal options to allow you to proceed with the installation.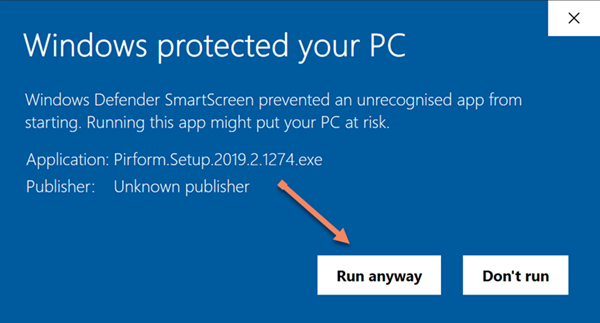 Pre-Release Versions
A pre-release is a version of the program that has some changes or fixes but has not yet been released. It is still being tested and you may find that some things do not work as reliably as expected.
If you are in any doubt, only install from the main download location above.
When a release candidate is available, the installer can be found here:
www.shineforms.co.uk/download/prerelease
Pre-Release Version "Small Print"
When using a pre-release version, please note the following:
Pre-release versions are still being tested and you may find some things don't work as expected. We will, of course, work closely with you to fix anything that you may encounter and you can always just reinstall the latest version.
If you export certificates from this version then anyone importing them will also need to use the same pre-release version or a later version.
That said, you can always download and install the current installer again from our website.